Updated for 2023
Some say that there are two types of people in this world—those that like pumpkin beer and those that don't. We say that if you think you're in the second group, you just haven't met the right pumpkin beer yet. Popular since colonial times, pumpkin beer came into existence when desperate times called for desperate measures, i.e. malt supply was low and pumpkin was a readily available substitute for making beer. We're of the opinion that necessity was the mother of delicious, delicious invention. Every year when fall comes around, we can't wait to stock up on our favorite pumpkin beers again and try out the newest additions to the patch. So without further delay, happy fall, y'all!
It should come as no surprise that this colonial era-inspired ale made with blended pumpkins and caramel malt is like drinking delicious, bottled fall. But hey, don't take our word for it. Try it yourself alongside any of your favorite Thanksgiving dishes or your mom's freshly baked mac and cheese recipe.

With warming hints of pumpkin, brown sugar, and spice you'll love this golden ale for its cinnamon tingle and all the fall feels it imparts. Pair it with cheddar cheese, stuffing, your favorite chunky sweater, and the firepit/ fireplace of your choice.
Made with pumpkin puree and both roasted and raw pumpkin seeds, Elysian's OG pumpkin ale is flawlessly spiced and exceptionally drinkable. This beautiful brew tastes like a pumpkin pie and pairs perfectly with your favorite fall savory treats, Halloween parties, and crisp, cool evenings.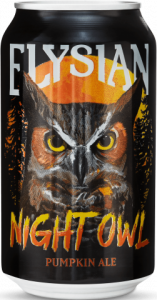 Like a mutant pumpkin that grows to grotesque proportions under the full moon light of All Hallow's Eve, this brew is boasting some gargantuan – dare we say frightening? – pumpkin flavor. The first ever Imperial Pumpkin Ale, Elysian commits both roasted pumpkin seeds and extra pumpkin to the mash, kettle and fermenter along with cinnamon, nutmeg, cloves and allspice.

If you start your fall mornings with a pumpkin spice latte, then this is what you're unwinding with. Just a shake of cinnamon and nutmeg complement the pumpkin and Stumptown coffee toddy that's added to the mash. Biscuit, chocolate and of course, coffee malts are bittered with German Northern Brewer hops for a brew with attitude.

Spookily smooth and chocolatey, this pumpkin stout will leave you howling for more. The award-winning brew boasts a full body, creamy texture and notes of cocoa, brown sugar, vanilla, dark fruit and pumpkin. Bittered with Magnum and finished with Saaz and crushed cinnamon, one sip is sure to transform you into a beer-thirsty beast.
We all have that friend that's been looking forward to Pumpkin Spice Latte season at their local café for the entire year – you can be that friend, but with Pumpkin Spice Latte ale from Left Hand. This fall-leaf-colored brew ticks all the PSL boxes and more with spices, Ozo's Ursa Major coffee, toasted malts plus oats and lactose for richness and body. Top it all off with a pillowy Nitro head reminiscent of latte foam, check!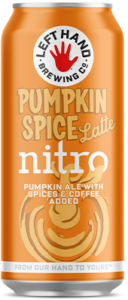 Rogue Brewery isn't messing around when it comes to pumpkins. They chop up and roast whole pumpkins by hand before adding them to the brewing kettle. The resulting beer is a delicately spiced and tastes of cardamom, orange peel, and vanilla. Enjoy it alongside hearty fall dinners and your favorite people.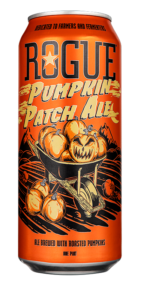 All the bready, malty goodness you'd expect from a Bock beer with the addition of pumpkin and spice. This is the version of Tupps Backyard Bock that you take outside in the fall to enjoy the crisp sweater weather with a group of friends. Sip it during a pumpkin-carving party or as you're handing out treats when the ghouls come a-knockin'.
Bonus Round—Pumpkin Cider
No, we aren't out of our gourds. We fully acknowledge that this last one isn't a pumpkin beer. That being said, when it comes to fall beverages, apples plus pumpkins fill our hearts and pint glasses with pure autumn joy and we'd hate to deprive you of anything so seasonal and delightfully refreshing. So keep reading.
The gorgeous color of Ace's Pumpkin Cider is your first clue to its rich pumpkin pie flavor. Sip after sip, you'll keep coming back for its clean, crisp flavors. Perfectly spiced, this cider is a great companion for Halloween and Thanksgiving and pairs well with beef dishes.