Hey there beer lovers! Welcome back for a very special edition of our Ladies of the Craft Beer Industry series. If you've read parts one, or two, you know that we've interviewed women across many different aspects of the craft beer industry and who work with many different breweries. This time, we're lucky enough to get to talk to two ladies from within the same brewery. Sit back, relax, and read on to learn about their challenges, their brewery, and their #friendshipgoals worthy bond. Enjoy!
Jessica Blackburn, Co-Owner AND Marin Slanina, Hospitality Manager, B-52 Brewing Co.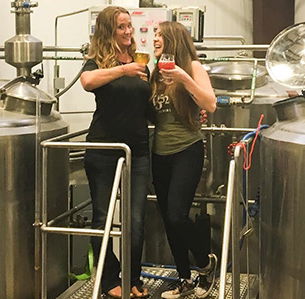 How They Got Started
Jessica:
Jessica was a craft beer consumer for over 10 years before diving into the industry. While she was living in Austin, The Gingerman introduced her to a wide variety of craft beers. Paired with her knowledge of the science behind beer's creation, she was hooked. After two years of preparation, B-52 Brewing Co. finally opened its doors in May 2014.
Marin:
Working in the Food and Beverage/Sports and Entertainment industry, Marin transitioned over to craft beer hospitality two years ago when B52 was looking for someone to fill that role at the brewery. Jessica threw her name in the hat and the rest is history. The job also came with the added perk of working alongside her husband and B-52 Head Brewer, Justin Slanina. Win-win!
Favorite Part of the Job & the Biggest Challenge
Jessica:
Jessica's favorite part of her job is getting to meet all the awesome people in the craft beer industry—from bar owners, to other brewery reps, to enthusiastic customers and everyone in between. She describes the energy and creativity in the craft beer industry as "exhilarating" and we could not agree more. When we asked what her biggest challenge is, Jessica responded, "not drinking all the beers!"
Marin:
A natural host, Marin's favorite part of the job is educating the B-52 guests on their brews. Both challenging and an opportunity, this pushes her personally to really know her stuff. She adds, "the more people know about our brews and how they are made, the more they can enjoy them and appreciate our dedication to the craft."
Their Favorite Brewery Backstory
Jessica:
Along with co-founders/friends Brent and Chad, Jessica started home brewing in San Marcos while in college. As they became increasingly passionate about brewing, they began to think of ways to turn it into a business. It was on a trip to Costa Rica in 2012 that they got together with the family and made the decision to open a full-scale brewery.
Marin:
There are five family member owners and each apparently has a different story of how the name came about. Marin loves to sit back when they are all together and listen to the bickering back and forth about how they chose "B52". She's not sure anyone knows the "real" origin but she gets a kick out of hearing the many versions.
The Most Creative Beer Project They've Ever Been Involved With
Jessica & Marin:
Both Jessica and Marin were a part of the team when five Houston breweries got together to pay tribute to Saint Arnold for its 23rd anniversary. Each brewery picked a Saint Arnold beer and recreated in a way special to the brewery. B-52 picked Bishop's Gone Wild and the brew began with the same grain bill, was then kettle soured and refermented with raspberries and blackberries. Jessica noted that, "it was amazing to see the teamwork of all the different breweries coming together to create such a special experience."
Who Inspires Them
Jessica:
Being a local business, Jessica is constantly inspired by the other local craft breweries. B-52 Brewing Co. was the 5th or 6th brewery in Houston and now there are over 50 in Houston. Knowing how hard it is to open a brewery, Jessica is so proud to see how quickly the Houston craft beer scene is growing.
While many people in the industry inspire Jessica, it's the people that work with her at B-52 that inspire her every day. In her words,
"Head brewer, Justin Slanina, is extremely hard working and is constantly creating amazing beers. Marin Slanina, our hospitality manager, is taking our onsite brewery experience and creating a place like none other for our customers. Our bartenders are constantly striving to know as much information about craft beer to give our customers the best experience. All of our owners (Pam, Ron, and Brent Daniel, Justin Tipler and myself) are always working together to keep the business working efficiently while providing our employees, customers and retailers the best experience."
Marin:
For Marin, joy and inspiration come from her husband Justin's hard work, dedication, and passion, noting that he, "drives me to be the best I can be for B52 & the craft beer community."
Marin is also extremely grateful to the Daniel family for providing the opportunity for this dream of theirs to come true.
Their Advice for Women Getting into the Industry
Jessica & Marin:
For other women or anyone looking to join the beer industry, Jessica says you must have tenacity because, "all aspects of craft beer require hard work, constant education, and passion. If you want it bad enough you will find your place in the industry." Marin reinforces this, adding, "Just do it!! Learn a lot, know your stuff, and go for it!"
Her Favorite Female Craft Beer Influencer
Jessica:
Ten years ago, Jessica drove out to Blanco, TX to Real Ale for her first craft brewery visit. "I'll never forget driving up the dirt road to a large warehouse in the middle of the boonies. I was served by one of the owners, Gabriel Gregerman. I could tell she was so passionate about her beers and her business that I was excited to be a part of it, even just as a consumer. That excitement has stayed with me." As her knowledge of craft beer grew, she has also come to learn about New Glarus brewing and Deborah Carey. Not only impressed by the company's beers, Jessica considers Deborah to be an important pioneer as a female in the craft beer movement.
Marin:
Marin doesn't have to look far to find her favorite female craft beer influencer. As the first female in the industry Marin has had the pleasure to get to know, Jessica stands out for her wealth of knowledge and willingness to share what she knows with others. Working side-by-side with Jessica, Marin knows firsthand that, "she is a strong female who can kick any brew boy's ass!"
On Lady Brewers in the Industry
Jessica:
From Jessica's perspective, men and women bring different points of view to the industry, noting, "it's like when you step back from a project and notice something that you didn't see before." She believes craft beer is constantly evolving and bringing another point of view will just add to the creativity and drive the industry to even greater heights.
Marin:
Noting that she may be a little biased, Marin believes that, "females in general, bring out the best in males." She explains that "in a room full of men talking about how to promote a beer or what to name the next DIPA, adding a lady into the mix and it brings a whole different dynamic and spin on the conversation, which 9 times out of 10 is going to lead to something great."
Funniest Story of Your Career
Jessica:
There are many stories from over the years, but one stands out in Jessica's mind.
"With a small business startup, you do whatever it takes to make it work. In this case, that meant my husband, Brent, and I stayed in a 5th wheel trailer on the property the two years before we opened the brewery. We provided security, dealt with contract workers and general property maintenance. Just in case anyone is interested, the trailer was 324 sq. ft. The reason I know this is because we measured it. It was TINY. Another interesting fact is that we were waiting on the city to hook up plumbing. So, for a FULL 2 MONTHS we had to use a Porta Potty. This lead to me becoming extremely well versed in the restrooms available around the brewery. Let me tell you, our bathrooms are amazing. I joke with Brent that after that wonderful experience, we can get through anything! It was tough but we knew we were building something special."
Marin:
For Marin, icing Jessica with Zima takes the cake. She recalls, "We secretly filled a crowler with Zima to 'team shotgun' at the end of a long production day. Jessica was to start. You should have seen her face… but she drank it for a good long while!" Great times!
First Craft Beer She Ever Tried
Jessica:
Jessica began her exploration of craft beer with Guinness and Bass at The Taproom in San Marcos. Thereafter, she quickly began trying tons of different styles, which led her to visit the Gingerman in Austin. The two beers that stick out in her mind, and that she credits with sparking her fascination with craft beer, are Left Hand Milk Stout and Lindemans Kriek.
Marin:
For Marin, it was North Coast Grand Cru. Served in at 4 oz. pour at Whip In in Austin, TX, she remembers thinking that, "it was the best damn thing I had ever put in my mouth."
Favorite Beer or Beer Style
Jessica:
Jessica's favorite beer changes each day and she truly believes craft beer is an experience. What beer she picks depends on the weather, her mood and what she's doing at the time. "If I am playing Frisbee golf on a hot day, I might choose a Pilsner or light sour. If it's cold outside and I'm sitting by a fire I might choose a nice, boozy stout. I love all styles of beer and appreciate what makes them unique."
Marin:
Similarly, for Marin (and many of us), her favorite depends on the day of the week, time of the day, or what a beer-tender chooses for her to drink. Her go to brew is a fruited tart sour. Marin also adores the brewery's mixology series, particularly the French 75 which is everything she loves about the cocktail (which happens to be her favorite) in beer form. Maybe she was the inspiration for this one?
Follow B-52 Brewing on Social Media
Facebook: @B52Brewing
Twitter: @B52Brewing
Instagram: @B52Brewing